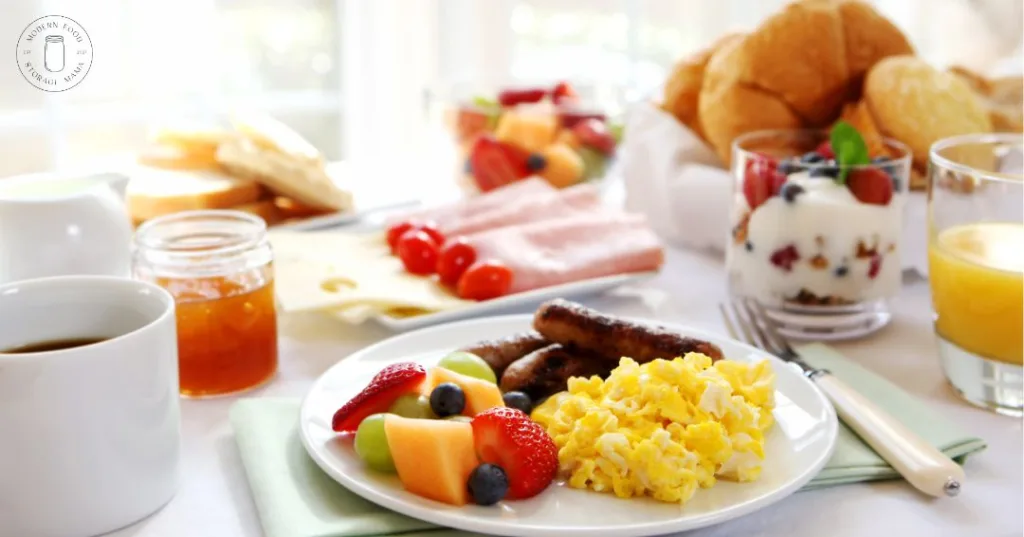 Hello friends! If you are new here on modernfoodstoragemama.com WELCOME, if you have been following along on Instagram @foodstoragemama, or have been to my website before, thank you so much for following and for your support!
Today, I want to discuss 3 Breakfast Recipes using your food storage. I know that coming up with meals you can make with food storage can be tricky!
Not only are these meals simple and easy to prepare, but they are nutritious and yummy! We want our food storage packed full of good foods our families actually want to eat.
This blog post will discuss short- and long-term food storage, freeze-dried and dehydrated foods. You will also find information about using foods from Thrive Life Freeze-Dried Food Storage, Deseret Farms Food Storage, Augason Farms Freeze-Dried Food Storage, etc.
I will share various brands and products that you can use to create these food storage breakfast recipes for your families.
Without further ado, let's discuss 3 Food Storage Breakfast Recipes (Ideas for you)…
Oatmeal and Freeze-Dried Fruit, Long-term Food Storage Ingredients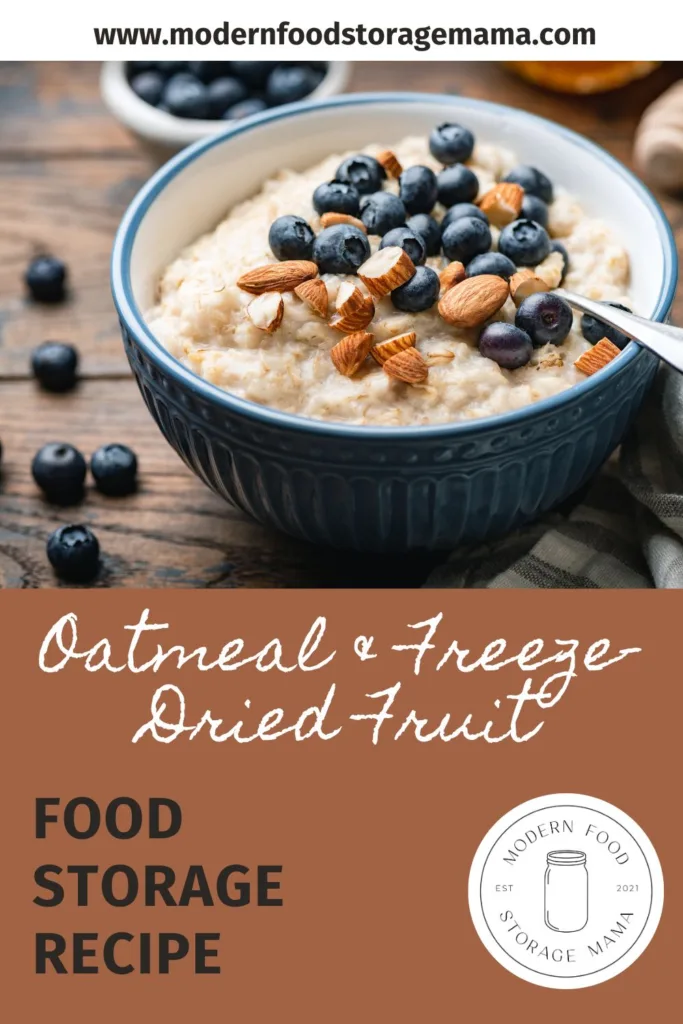 Oatmeal is a classic breakfast food that is ideal for long-term food storage. You can buy commercially packaged oatmeal for long-term food storage; you can also store oatmeal long-term using mylar bags.
For my long-term food storage, I buy oats from Deseret Farms. Anyone can buy this food storage, Deseret Farms food storage is produced by the LDS Church, but you do NOT need to be a member to order! This brand is very cost effective, and the shipping is also very affordable. They offer many other products as well.
Thrive Life is an excellent option for buying freeze-dried fruits! Many of their foods are non-GMO, which I appreciate. Please contact me with any questions about Thrive, the ordering process, etc.
Augason Farms also offers many freeze-dried fruit options. I recommend looking for deals on these products on Amazon.com and Walmart.com! I have found great deals on both websites when purchasing Augason Farms food storage.
To make your oatmeal extra yummy and increase the protein, you could add in some Peanut Butter Powder!
*When using mylar bags for long-term storage, research how long each type of food will last in a mylar bag and follow all the instructions to keep the food properly. If you plan to store oatmeal in mylar bags, consider using rolled oats because they are best for long-term storage. I also recommend first placing your oats in their original packaging into the freezer for 48-36 hours to ensure that any insect eggs that might be present in the oatmeal die before you store the oats in your mylar bags. (This sounds gross I know, but this is an issue with wheat, flour, oats, etc. Google it to learn more!).
Pancakes and Syrup – Long-term Food Storage Ingredients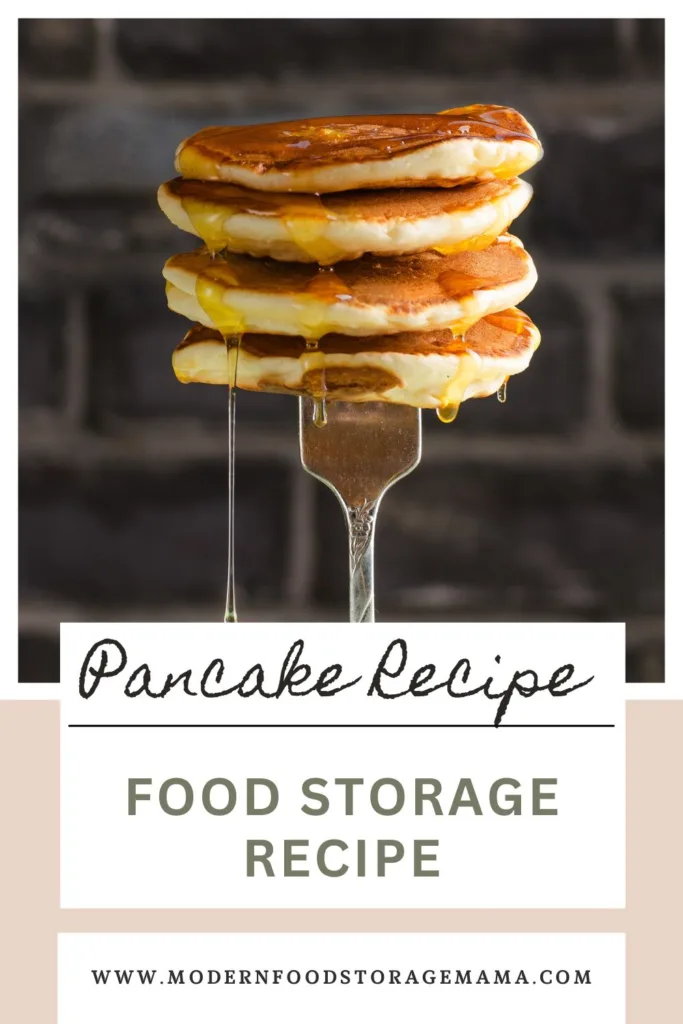 Who doesn't love pancakes for breakfast? I don't want to live in a world without pancakes! Pancakes make a perfect food storage item because you can make them from scratch or mix or even buy them in long-term food storage options!
What about butter and syrup? I have great news: you can find those items in long-term food storage options. You can buy powdered butter and powdered syrup.
You can find my Buttermilk Syrup Recipe, on this post I also discuss the various options for storing the needed ingredients in your long-term food storage! In this article I have also included a free printable of the recipe for you to add to your Emergency Preparedness/Food Storage Binder.
On my Amazon page, you can check out a list of long-term food storage options for making pancakes!
Scrambled Eggs with Freeze-dried Veggies, Long-term Food Storage Recipe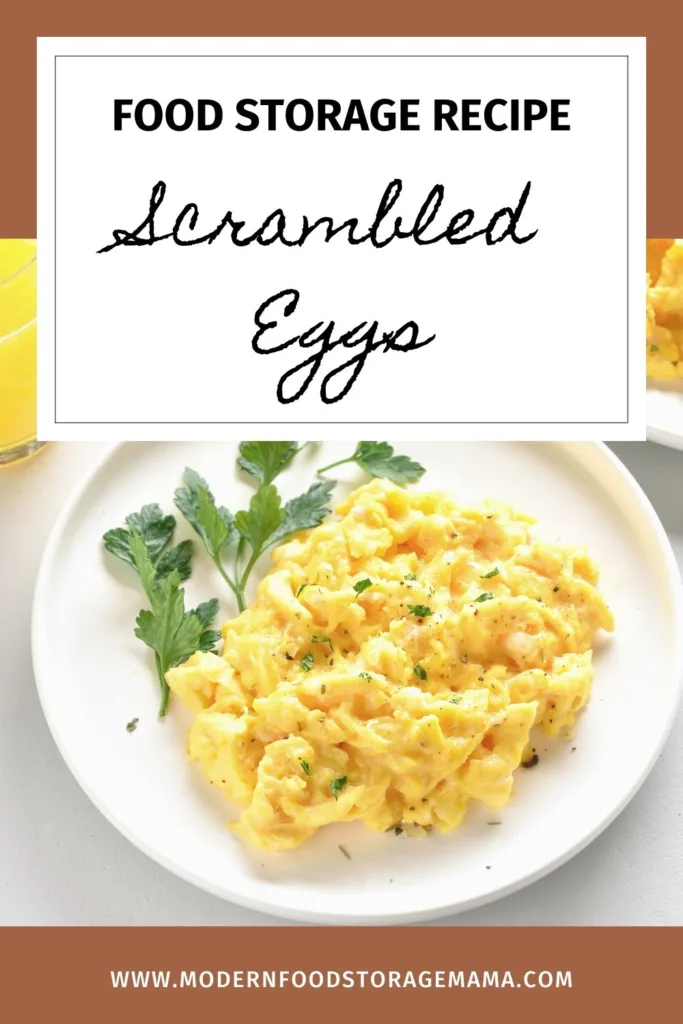 Scrambled eggs are a nutritious way to start your day. Did you know that you can make scrambled eggs entirely from freeze-dried foods? You can find every ingredient, from whole eggs to veggies to freeze-dried cheese.
On my Amazon page you will find a list of long-term food storage items that you can purchase to have on hand to make scrambled eggs, omelets, and more!
Thrive Life has many great options for stocking your pantry with shelf-stable food storage options.
WHY would you want to stock up on food storage breakfast recipe ingredients?
We don't know what challenges the future might hold! Food storage is not just for natural disasters and food shortages. Food Storage is Food Insurance. Each time you stock a food storage item on your shelf, you are preparing your family for any unforeseen emergency you could face.
I don't believe in planning for emergencies or personal crises but in preparing for them. Having food storage is another form of having a savings account.
I encourage you to work on your emergency preparedness from a state of mind that focuses on faith and not from a place of fear. The more prepared we are, the less fearful we will be.
My personal Motto is Preparedness = Peace!
Keep in mind that food storage is not just for emergencies; these breakfast recipes that we have discussed are ones you can make regularly. We must store the foods that our family will eat. If you see foods in this post that you know your family will not eat, I do not recommend buying that food for storage.
Getting Your Food Storage Organized!
I would love for you to join us in getting organized with our food storage and emergency preparedness goals!
Have you heard about my EMERGENCY PREPARDNESS BINDER?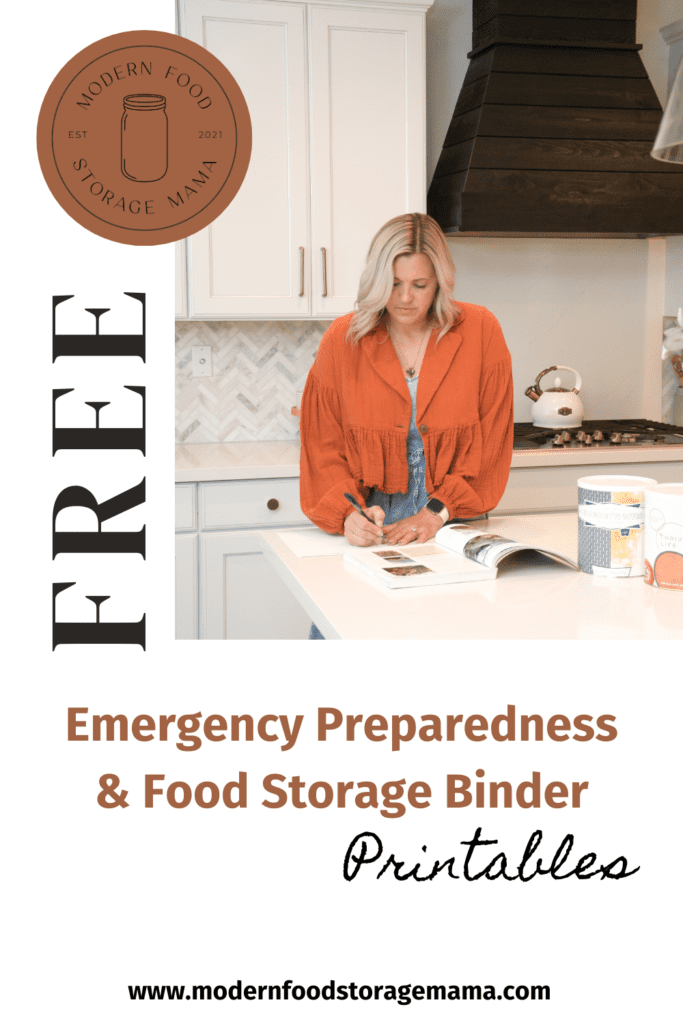 ALL printables for the binder are free! You can follow along on Instagram @foodstoragemama OR Facebook @modernfoodstoragemama for weekly updates, instructions, and links to the free printables!
I want to work on this project together! I know I definitely need to get more organized myself.
These posts will take you to the links to download the printables for the emergency preparedness binder!
Thank You!
Thank you for visiting modernfoodstoragemama.com! I am so happy you found my site, I hope you find helpful resources here. I would love to discuss what types of food storage and emergency preparedness resources you are looking for.
If you are looking for Food Storage Dinner Recipes, check out THIS post!
Please feel free to contact me via email, Instagram, or Facebook DM!
xoxo,
Brittany