*Included in this post is a free -Pantry Staples- printable!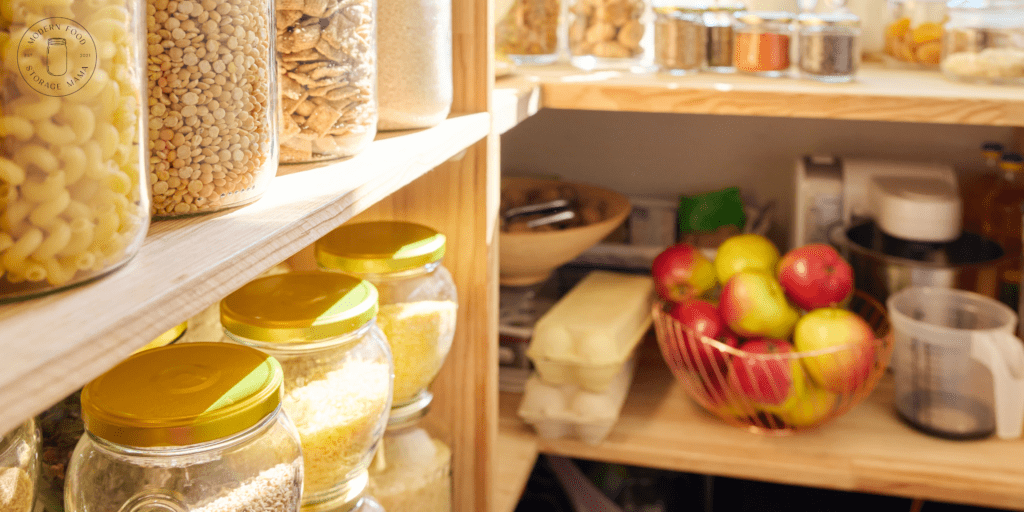 How To Stock Your Pantry: Food Storage Staples
Maintaining a well-stocked pantry (or cupboards) will also help you to eat out less and save money on your grocery bill. If you haven't already, sign up for my free Quick Guide: Build Your Food Storage With $100 per Month. In this FREE guide, I teach easy-to-implement strategies for building your food storage stockpile, reducing your grocery budget, and tips to help you towards your food storage goals.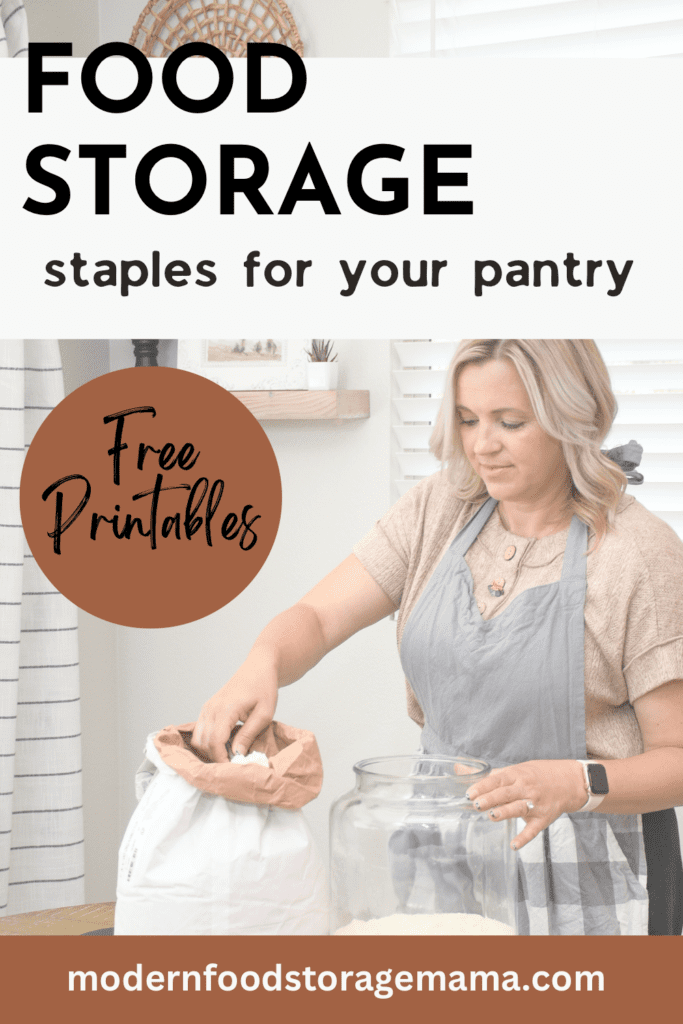 Food Storage Is For Everyday Use, Not Just Emergencies!
When people think of the term "food storage," they often think of bunkers and doomsday preppers. Here on modernfoodstoragemama.com, we focus on preparedness as a tool to feel more peaceful, and we don't focus on the fear of the various "what if" scenarios. Yes, we are prepping for emergencies, possible food shortages, etc., but we are also stocking our shelves to prepare us for the day-to-day hustle and bustle of our busy lives. Our food storage is our food insurance and our personal mini grocery store.
Being Prepared For Busy Nights
A well-stocked food storage supply will prepare you for those busy nights when you need to throw a meal together quickly. Building a stockpile of shelf-stable foods will help you be more efficient in the kitchen and save you from those last-minute trips to the grocery store for just one or two ingredients.
Stocking Up!
Now let's discuss how to stock your shelves with food storage staples! In this article, we will be talking about your shelf-stable short-term food storage. Short-term food storage is the food you have in your pantry, cupboards, fridge, and freezer.
Many food storage staples are excellent to have on hand. These staple foods provide you with the foundation for healthy and well-balanced meals. Many people think of shelf-stable foods as unhealthy, but there are so many nutritious shelf-stable foods that you can stockpile.
List of Shelf-Stable Foods To Stock Up On
This list is a suggestion of shelf-stable foods you can stock up on. If you see any item or ingredient on the list you never use, I do not recommend stocking up on that item. One of the benefits of stocking up on short-term food storage is to reduce food waste; having foods stocked at all times means you always have something you can cook. We want to avoid purchasing foods we will not eat, creating more food waste. I recommend only buying foods you know your family will eat. And the flip side is also to start stockpiling foods in bulk that your family often eats, especially if you find those foods on sale, stock up on what you know you will use!
Here are some ideas of food storage (shelf-stable, short-term) staples to consider stocking up on:
*Remember to keep scrolling to download the free printable Pantry Staple List!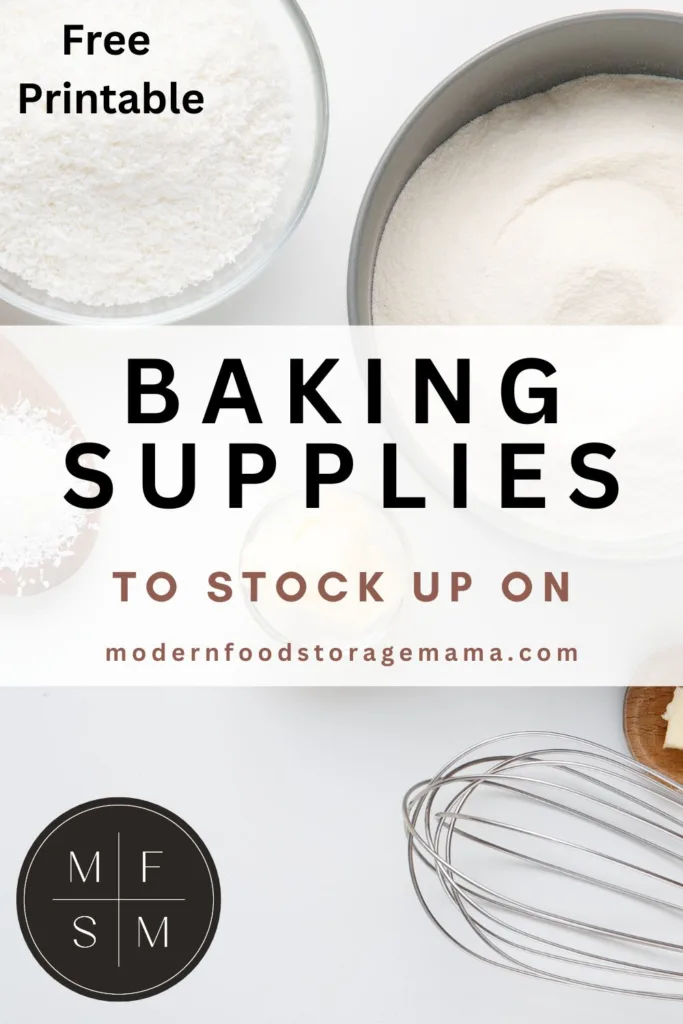 Baking Supplies
Why should you stockpile baking supplies?
Stocking up on baking essentials is a wise choice, not only to be prepared for emergencies but also for the convenience of having all of your baking ingredients at your fingertips! If you enjoy baking, you know the value of having the right ingredients. Stocking up on shelf-stable baking supplies will save you time and money and ensure you have the ingredients you need to prepare baked goods for your family in an emergency.
Did you know you can bake without electricity in a solar oven? You can check out these solar ovens on my Amazon storefront!
What baking supplies should you stockpile?
Here are the shelf-stable baking supplies I suggest stocking up on! Remember that you may not personally want or need everything on this list, so please use your judgment as you stockpile these foods and only buy foods and ingredients you know you will use before their expiration date!
-Flour: bread/all-purpose
-Alternative flours: almond, coconut, kamut
-Oats
-Sugar, granulated
-Brown sugar
-Powdered sugar
-Baking powder
-Baking soda
-Cocoa powder
-Vanilla extract
-Almond extract
-Instant dry yeast
-Corn starch
-Oil (for baking)
-Honey
-Maple syrup
-Ghee, clarified butter
-Apple sauce
-Crisco/shortening
-Chocolate chips
-Marshmallows
-Shredded coconut
-Sweetened condensed milk
-Evaporated milk
-Coconut milk (liquid boxed)
-Canned coconut milk
-Pancake mix
-Brownie & cookie mix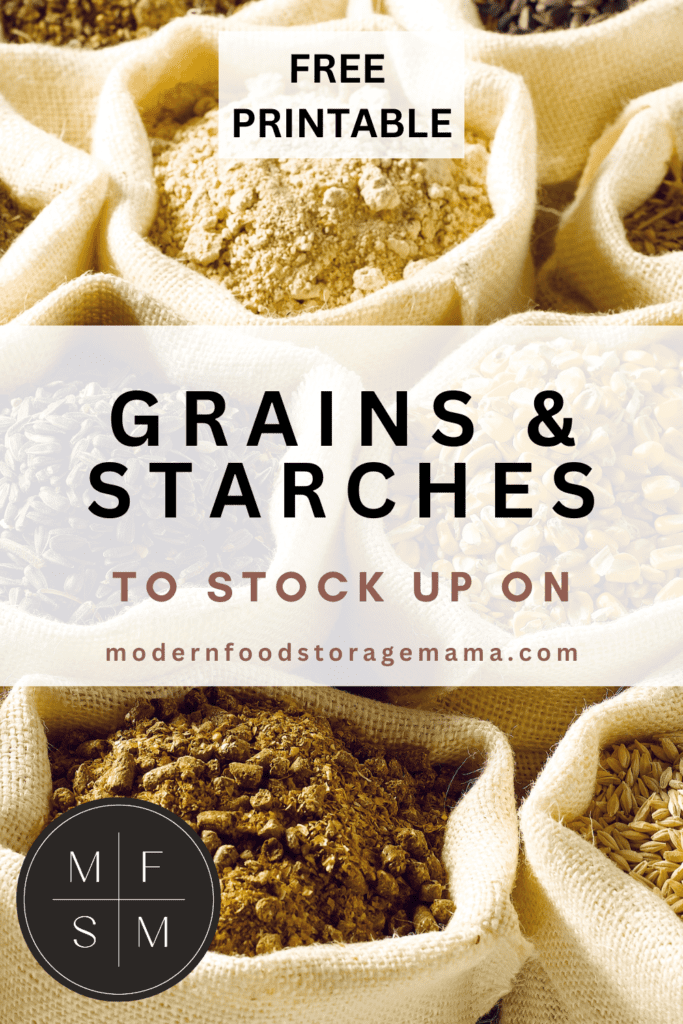 Grains/Starches
Why should you stockpile grains and starches?
Stockpiling grains and starches is a vital part of having balanced food storage. Carbohydrates provide our bodies with essential energy. They are also easy to store and affordable. Grains and starches are highly versatile and used in many recipes, from bread to pasta to soups.
These foods are shelf-stable for years to decades when stored correctly, making them an excellent source of food storage.
What grains and starches should you stockpile?
-Cereal
-Oatmeal
-White rice
-Brown rice
-Pasta
-Quinoa
-Flaxseeds
-Chia seeds
-Bread crumbs
Canned/Bottled Foods
Why should you stock up on canned foods?
Stocking up on canned foods is a wise choice for anyone wanting to preprepare for an emergency to ensure that you and your family have access to nutritious foods. Canned foods are ideal for emergency preparedness foods because they are easy to store and have a long shelf life. In an emergency, canned food provides a convenient source of nutrition that doesn't require cooking, and it is easy to transport this food.
What canned foods should you stockpile?
-Canned fruit
-Canned vegetables
-Canned meats: chicken, tuna, salmon
-Broths: chicken, beef, vegetable
-Tomato: sauce, paste, diced
-Salsa
-Enchilada sauce
-Spaghetti sauce
-Marinara sauce
-Pickles
-Artichokes
-Olives
-Syrup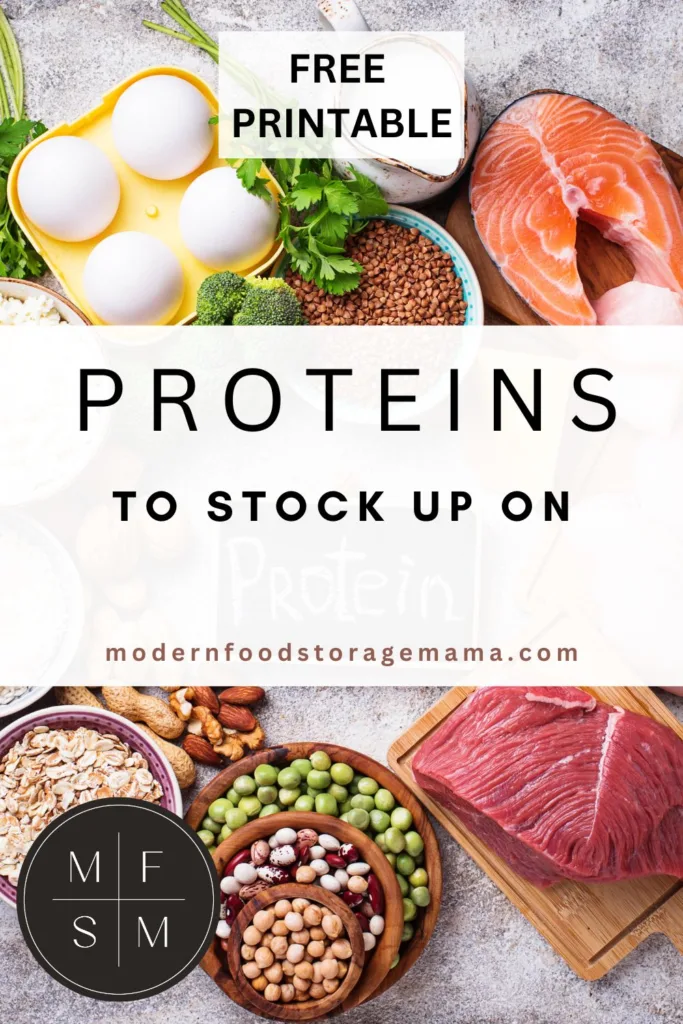 Proteins
Why should you stock up on proteins for emergencies?
Protein is a vital macronutrient for our bodies. It helps our bodies to function correctly and is a building block for our muscles and bones. This nutrient supports our immune systems. In an emergency, our bodies must get enough protein to stay energized and alert. Stocking up on shelf-stable protein sources is crucial to building a solid food storage supply. You want to ensure you can access protein sources during a crisis or emergency.
What shelf-stable proteins should you stock up on?
-Canned chicken
-Canned tuna/salmon
-Protein powder
-Collagen powder
Beans & Legumes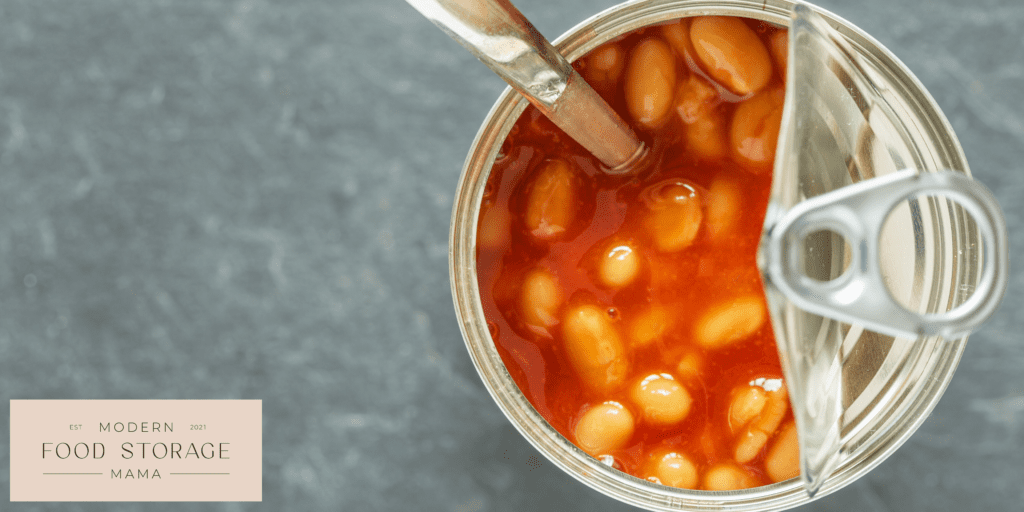 Why should you stock up on beans and legumes for emergency food storage?
Most people know that beans are an absolute staple in food storage, but do you know why it is so important to have this food stocked in your home? Beans and legumes provide your body with protein, iron, and fiber, essential nutrients that your body needs. These foods are affordable, easy to attain, and you can store them for long periods.
What shelf-stable beans and legumes should you stockpile?
-Black beans
-Kidney beans
-White beans
-Pinto beans
-Chickpeas
-Lentils
Oils & Vinegar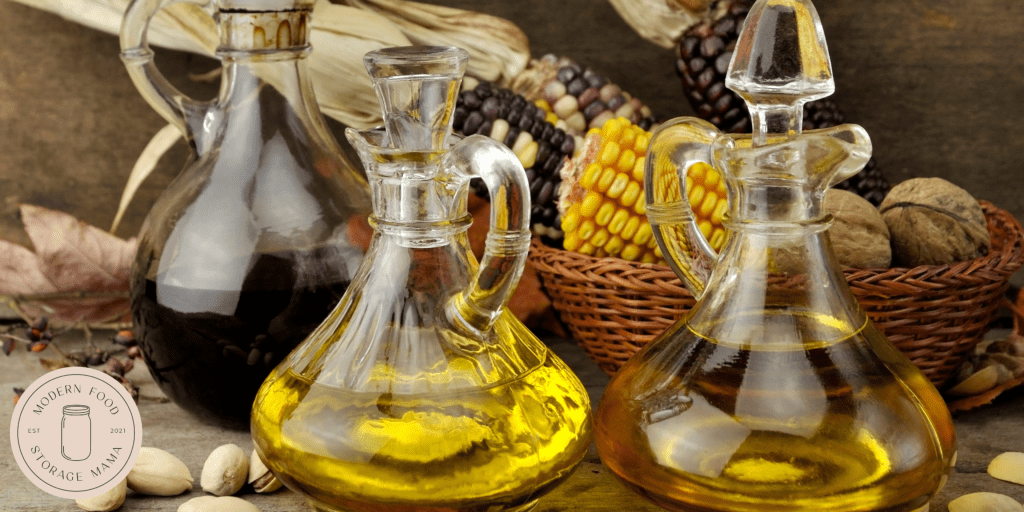 Why should you stockpile oil and vinegar for your pantry and food storage?
Oil and vinegar are vital ingredients used in many recipes, salad dressings, and used for sauteing foods. They contain nutrients such as healthy fats and antioxidants that will boost your immune system. You can store oil and vinegar for an extended period. It is essential to keep track of the expiration dates on these foods to ensure that you use them up before the expiration date, as oils can turn rancid.
Store your oils in a dark and cool location to preserve their nutritional value.
What oils and vinegars should you stock up on for your pantry?
-Olive oils
-Vegetable oil
-Avocado oil
-Coconut oil
-MCT oil
-Sesame seed oil
-Olive/Avocado oil cooking spray
-White vinegar
-Red-wine vinegar
-Apple cider vinegar
-Balsamic vinegar
Spices and Herbs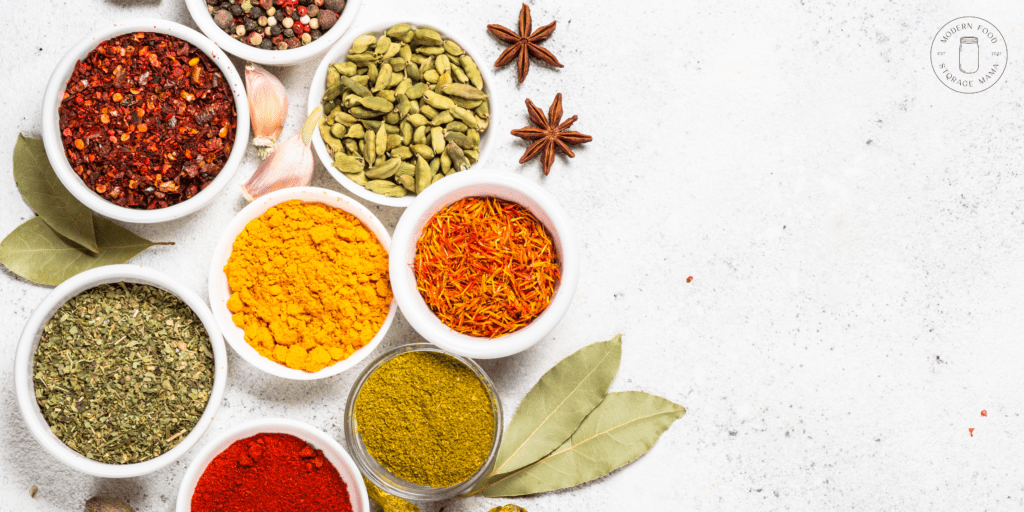 Why should you stock up on herbs and spices for your food storage?
Herbs and spices have many health benefits. By stocking a variety of herbs and spices, you will be able to add flavor to your recipes without having to run to the store. When you buy these in bulk, you can save money and always have these products on hand in your food storage.
Herbs and spices are known for their medicinal benefits; they can help boost your immune system, reduce inflammation, and improve digestion. Did you know certain herbs and spices, such as cinnamon, cloves, and thyme, have antimicrobial properties that help preserve food?
What herbs and spices should you stockpile for your food storage supply?
-Salt/sea salt
-Pepper/Peppercorns
-Garlic powder/garlic salt
-Onion powder
-Cinnamon
-Cloves
-Nutmeg
-Thyme
-Bay leaves
-Basil
-Dill seed
-Oregano
-Dried mustard powder
-Ground ginger
-Crush red pepper
-Curry powder
-Tumeric
-Cumin
-Paprika
-Cayenne pepper
-Steak seasoning
-Lemon pepper
-Taco seasoning
-Lemon/lime juice
-Bouillon: chicken/beef
Nuts/Nut Butter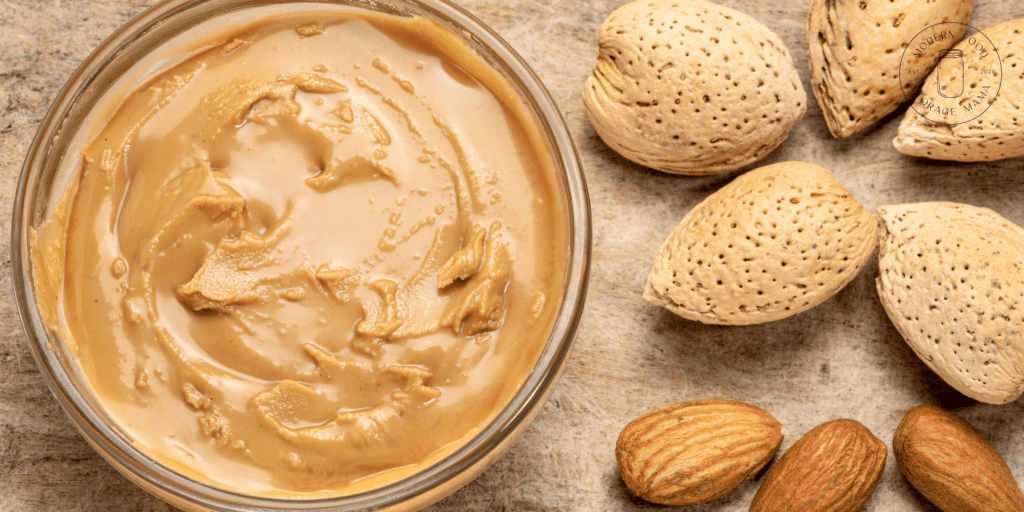 Why should you stock up on nuts and nut butter for short and long-term food storage?
Nuts and nut butter contain essential nutrients, healthy fats, fiber, vitamins, and minerals. When stored properly in a cool, dry location, these foods generally have a long shelf life. You can use these foods in a variety of recipes as well as eaten as a nutritious snack option. By stocking up on these foods, you will ensure that you have a cost-effective food source that is nutrient dense and versatile.
What nuts and nut butters should you stock up on?
-Peanut butter
-Peanut butter powder
-Almond butter
-Cashews
-Almonds
-Walnuts
-Peanuts
-Macadamia nuts
-Pistachios
Condiments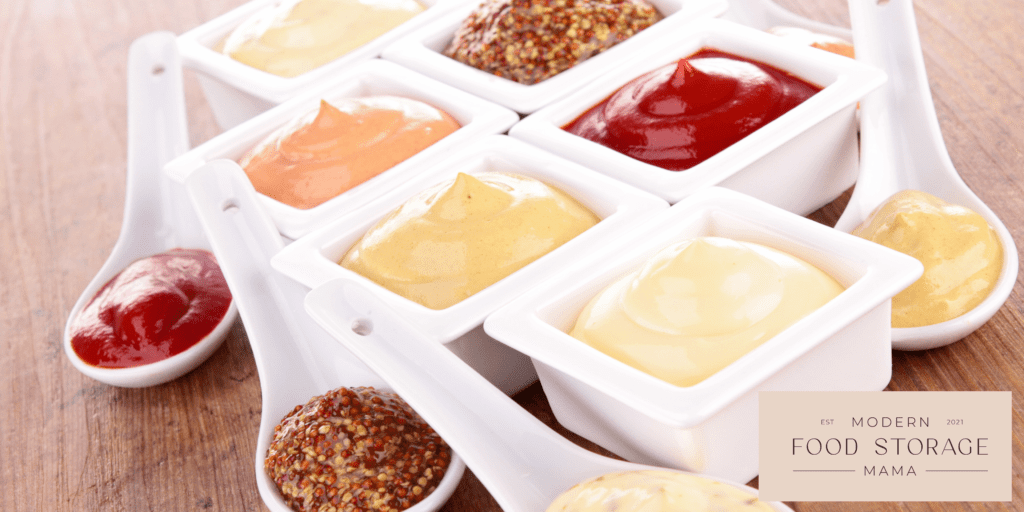 Why should you stock up on condiments for your food storage?
Condiments might not seem like the obvious foods to stockpile for your food storage, but remember that you don't just want to build long-term food storage; you want also to build short-term food storage. These foods add flavor and variety to your meals. In an emergency, your morale could be low; having a tasty sauce on hand to add to your food would be a small comfort in challenging circumstances. By stocking up on the condiments your family uses the most, you will always have a supply of these foods to pull from instead of having to run to the store.
What condiments should you stock up on?
-Jams/jellies
-Ketsup
-Mustard
-Dijon mustard
-Dressing mixes
-Salad dressing
-Mayonaise
-Miracle whip
-Hot sauce
-Worcestershire sauce
-Coconut aminos
-Soy sauce
Snacks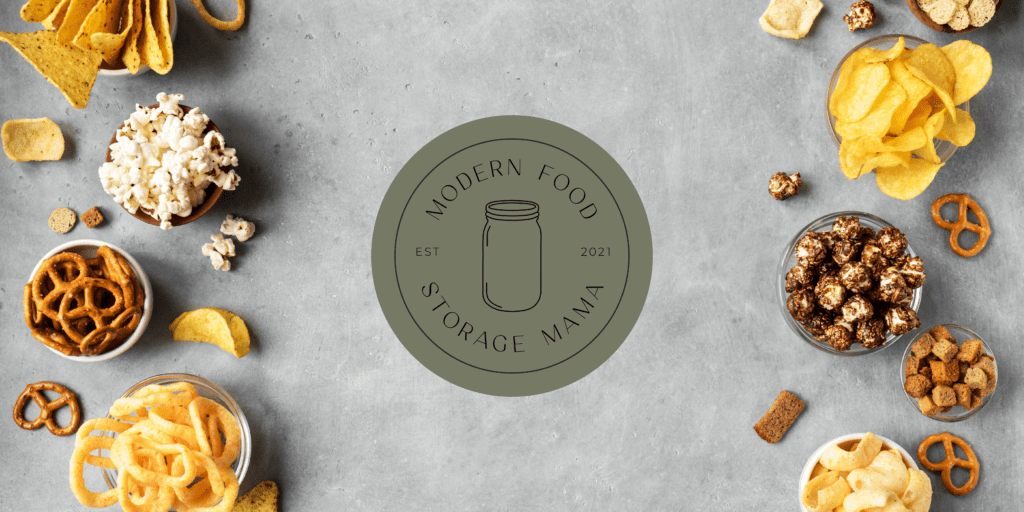 Why should you stock up on snacks for your pantry?
Stocking up on snacks for your pantry is an excellent idea for your daily nutritional needs and emergencies. Snacks are easy to store, and you can find many with an extended shelf-life. We sometimes need convenient and quick food in our busy day-to-day lives, and we definitely need these foods in emergencies. Having a variety of nutritious snacks on hand will make all the difference in unexpected circumstances.
What snacks are good to stock up on for food storage?
-Crackers
-Granola
-Granola bars
-Pretzels
-Fruit leather
-Popcorn
-Raisins
-Dried cranberries
How is your current food storage stockpile looking?
After reading this article, how do you feel about your current pantry (short-term) food storage stockpile? Are there foods and products I mentioned in this list that you never use? What foods would you add to my list? Please use this list (see link below) to go through your pantry and cupboards and inventory what you have.
You can download the printable checklist HERE
My article on How To Inventory Your Food (& the included printables) will also be beneficial as you work towards your food storage goals.
Remember, working on food storage and emergency preparedness is ongoing. You do not need to run out and buy all these items simultaneously. I want to help you consistently take baby steps with your preparedness goals. Many of us are leading hectic lives, and despite our best intentions, working on our food storage gets put on the back burner.
To help you (and me) stay on track, I have a few ways to help us keep food storage and emergency preparedness on our minds-
You can sign up for my newsletter HERE!
I Would Love To Hear Your Feedback!
I hope you found this article and my free printables helpful! I would love to hear how your food storage and emergency preparedness journey is going.
You can contact me via Instagram @foodstoragemama.
While you are on a roll with your food storage, you will also find THIS article (& included free printables) helpful!
So happy to have you here on modernfoodstoragemama.com!
xoxo,
Brittany